WE ARE A INTERNET SHOP & MAIL ORDER BUSINESS BASED IN SUFFOLK, ENGLAND
FOR UP TO DATE NEWS DURING 2023
Remember to follow us on Twitter for the most up to date news regarding the arrival of new projectors, cine cameras, movies and basically anything else film related, and of course any offers and discount codes on second hand movies which we will tweet a number of times during 2023.
(NOTE: P&P to a U.K. postal address is locked at just £3.00 regardless of order size for 2023)
[ ***CLICK HERE TO FOLLOW US ON TWITTER*** ]
We prefer quality and the only way to experience the 'True' Home Cinema Sensation with 'Real' film quality is with 'Real' film projectors running Real film through them.

We also like to make the modern Standard 8 (Double 8) and Super 8mm world as uncomplicated and stress free as possible by offering a Kodak Style Film Processed Paid Option and also
THE OLD FILM COMPANY 4in1 SPECIAL PACKAGE. We stock all the KODAK film stocks as well as our very own film stocks for that special look. From the deep, opague blacks and stark whites of the classic 'Horror' film stock TRI-X, the Sulky Noir PLUS-X with its sharp detail. Or if you want to create that 'Battle Of Britain' aerial combat, WWII look try our very own B/W TOFC P51, or if you like that Vintage warm colour look how about our VINTAVISION.
We also stock Super 8mm Sound Film such as our own B/W TOFC 40 and our colour VINTACHROME 160T.

If you fancy having a go at shooting some real film we always have a good stock of cine cameras, and if you want to edit your home shot film the traditional way we also stock editors and splicers.

We offer a TELECINE/TRANSFER service for your Standard 8mm & Super 8mm Home Movies to a 1080P HD AVCHD Data Disc so you can edit on your computer or to a Ready To Play DVD which you can pop straight into your DVD Player.

For when you want to put your feet up and watch a movie just like the Director wanted you to see it, projected on a big screen we have a vast Second Hand Catalogue of Films with something for everybody young and old alike and a good selection of movie projectors to view them on.

We also stock many ACCESSORIES from Spools, Bulbs, Belts, Care Products, Projector Parts & Accessories, Cine Camera Accessories, Special Hard To Find Batteries, Editing Extras, plus many different types of Splicing tape & Cement as well as Acetate White Leader, and if you fancy a read your also see we have a number of Magazines in stock for when you feel like relaxing on the sofa.
[ EXPRESS CHECKOUT - THE FAST AND EASY WAY TO MAKE A INSTANT PURCHASE (WE AIM TO DISPATCH WITHIN 24HRS) ]
[ CLICK HERE IF POSTING YOUR ORDER INSTEAD OF USING THE EXPRESS CHECKOUT / EMAIL OPTION. OR SENDING FILMS FOR PROCESSING/TELECINE ]
[ YOU CAN CONTACT US VIA EMAIL USING THIS LINK AND WE AIM TO REPLY WITHIN 24 HOURS OR SIMPLY EMAIL TO rik@theoldfilmcompany.com ]

WE ACCEPT CHEQUE / DEBIT CARD / CREDIT CARD
You'll also notice a B-17 section where you can purchase all sorts of B-17 related items. Anything from photo's and Postcards to signed covers of various crew, models and even actual original parts of a B-17 knowing every item purchased on this page will help to keep the last remaining airworthy B-17, the, 'Sally B' in the U.K. where it should be, up in the skies over Great Britain and based at Duxford.
As 20% of all purchases are donated straight to The B-17 Charitable Trust, Registered Charity (No. 1079007)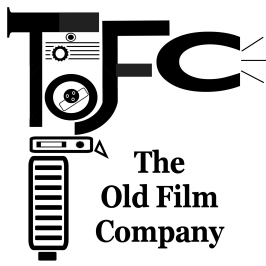 WE ARE A U.K. BUSINESS ALWAYS ON THE LOOK OUT FOR USED/NEW SUPER 8MM FILMS AND EQUIPMENT NO MATTER HOW LARGE OR SMALL

FEEL FREE TO EMAIL US A LIST OF YOUR ITEMS AND WE'LL GET BACK ASAP WITH A QUOTE