B-17 'SALLY B' FLYING FORTRESS SIGNED COVER - 13/05/77 (BIGGIN HILL AIR FAIR)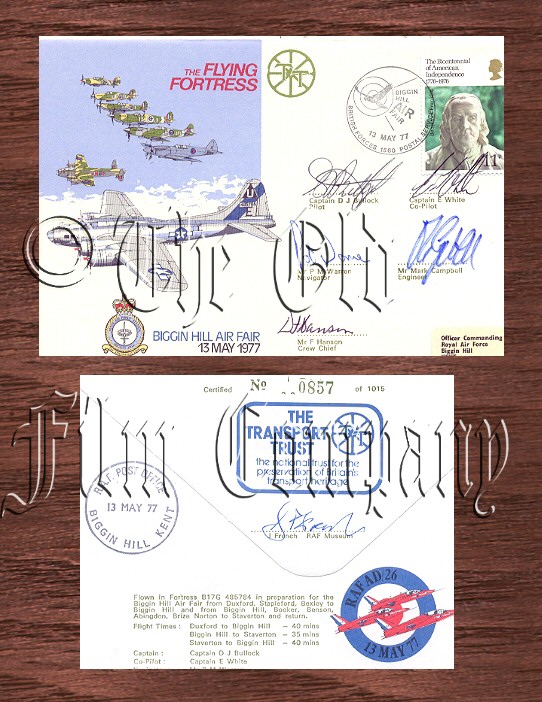 B-17 'Sally B' Flying Fortress signed cover.
Official RAF Museum Air Display commemorative cover


AD/26 RAF Museum Air Display cover commemorating the Biggin Hill Air Fair on the 13th May 1977.
The cover artwork shows the B-17 'Sally-B' flying with the Lancaster PA474 in No 44 Squadron KM-B markings and the Hurricanes and Spitfires of the Battle of Britain Memorial Flight.
The cover bears the Bicentennial of American Independence stamp cancelled with the British Forces 1560 Postal Service postmark for the Biggin Hill Air Fair 13th May 1977.

The cover is signed by the 'Sally-B' crew including; Captain D J Bulluck (pilot), Captain E White (Co-pilot), P M Warren (Navigator), M Campbell (Engineer) and F Hanson (Crew Chief).
The cover was flown In B-17G 'Sally B' prior to the air show.

Official special numbered and certified on the reverse.
****************
1 IN STOCK
***************

==========
£55
==========
***** 20% FROM THE SALE OF THIS ITEM GOES DIRECT TO THE B-17 CHARITABLE TRUST (registered charity No. 1079007) *****
To purchase the item on this page simply email the country of destination and name of the item using the link below if you use standalone email software such as Outlook etc.
[ Click here to email us ]
Or you can send a email to rik@theoldfilmcompany.com if you use web based email.
Or you can submit your order using the form at the bottom of this webpage.

On receiving your order your be sent a PayPal Electronic Email Invoice to your email address within 24 hours for fast easy secure payment. P&P to a U.K. address is just £3.00 regardless of order size.
All major credit or Debit Cards are accepted.
We aim to dispatch within 24hrs of payment received.
Or you can send a cheque using the Order Form which can be downloaded from the Home page.