SUPER 8MM & STANDARD 8MM SECOND HAND FULL LENGTH FEATURE FILMS (Also Includes Special Super 8mm & STD 8 Edited Versions)
To purchase any of the films on this page you can either 'Copy & Paste' or type the film(s) you wish to purchase into a email using the link below if you have email software such as Microsoft Live Mail or equivalent.
[ Click Here To Email Your Order To Us ]
Or you can send a email to rik@theoldfilmcompany.com if you use web based email.
Or you can submit your order using the form at the bottom of this webpage.

On receiving your order your be sent a PayPal Electronic Email Invoice to your email address within 24 hours for fast easy secure payment. P&P to a U.K. address is just £3.00 regardless of order size.
All major credit or Debit Cards are accepted.
We aim to dispatch within 24hrs of payment received.
Or you can send a cheque using the Order Form which can be downloaded from the Home page.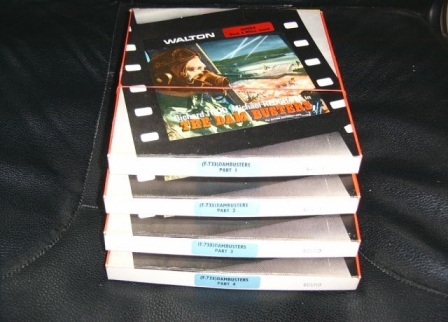 FILMS ARE SUPER 8MM COLOUR AND SOUND (MAGNETIC) UNLESS STATED OTHERWISE

THE SIZE REFERS TO THE SIZE OF THE SPOOL(S) AND NOT NECESSARILY THE FILM LENGTH

(A) = VERY GOOD. (B) = GOOD TO AVERAGE. (C) = FAIR. (D) = POOR
***************************************************************************************************************************
FULL LENGTH FEATURE FILMS (Also includes special Standard 8mm / Super 8mm edited versions)
~~~~~~~~~~~~~~~~~~~~~~~~~~~~~~~~~~~~~~~~~~~~~~~~~~~~~~~~~~~~~~~~~~~~~~~~~~~~~~~~~~~~~~~~

**********STANDARD 8MM**********

OUT OF STOCK.





**********SUPER 8MM**********

'SIMON AND LAURA' 2x 800FT B/W (B) £99.99 Actors who play husband and wife in a TV series are married in reality and hate each other!
FLYING DOWN TO RIO 4x400FT B/W (C/D) £59.99 A musical electrified by the finale in which girls dance on wings of moving airplanes, and by the teaming of Astaire and Rogers for the first time. Now a irresistible period piece.
GREAT EXPECTATIONS 2 x1200FT. B/W (B/C) £499.99 'The first big British film to have been made, a film that sweeps our cloistered virtues out into the open' - Richard Winnington. 'The best Dickens adaptation, and arguably David Lean's finest film' - NFT, 1969.
CABINET OF DOCTOR CALIGARI 5 x 200FT. B/W SILENT (C) £149.99 Sometimes referred to as the first horror film, this
film has immerse influence on the dramatic art of cinema, with its odd angles, stylised sets and hypnotic acting, not to mention the sting in the tail of its story.
WITCHFINDER GENERAL 4 x 400FT (C/D) £149.99 Savage, stylish horror melodrama with a growing reputation as the best work of its young director. Not for the squeamish despite its pleasing countryside photography. Note: Warm sepia tint in parts. Black spots on reels 3 & 4.
JANE RUSSELL in THE OUTLAW 4 x 400FT B/W (C-) £69.99 The controversial western banned for six years then only released in a truncated form due to Jane Russell and the focus on her two famous body parts!
LUST FOR A VAMPIRE 2 x 800FT (C) £199.99 In 1830 an English writer discerns that a pupil in an exclusive mid-European girl's school is a reincarnated vampire. Classic Hammer Horror. Note: Warm sepia tint.
NIGHT HAIR CHILD 2 x 600FT (C) £99.99 A disturbing psychological thriller of a wicked boy who develops an unhealthy attitude towards his stepmother. Note: This version contains the scenes removed by the BBFC. Stars Brit Ekland. Note: Warm purple tint.
LAUREL & HARDY in FLYING DEUCES 4x 400FT B/W (B/C) £89.99 Oliver joins the Foreign Legion to forget, bringing Stan along. They end up facing the firing squad but manage to escape in a stolen airplane but crash.
THE GODFATHER 9 x 400FT. (C/D) £249.99 "The greatest gangster picture ever made" - Pauline Kael. Note: Variable warm & pink sepia fade. Some splices.
GODFATHER II 10 x 400FT. (C) £249.99 The early life and career of Vito Carleone in 1920s New York is portrayed while his son, Michael expands and tightens his grip on the family crime syndicate. Note: Orange sepia & some splices.
SINGIN' IN THE RAIN 1 x 600ft, 4 x 400ft (B) £699.99 When the transition is being made from silent films to `talkies', everyone has trouble adapting. Don & Lina have been cast repeatedly as a romantic couple, but when their latest film is remade into a musical, only Don has the voice for the new singing part. After a lot of practise with a diction coach, Lina still sounds terrible. Kathy, a bright young aspiring actress, is hired to record over her voice.
THE DAM BUSTERS 4 x 400FT B/W (*B/C/D) £129.99 The story of how the British attacked German dams in World War II by using an ingenious technique to drop bombs where they would be most effective. Stars: Richard Todd, Michael Redgrave, Ursula Jeans. Directed: Michael Anderson. *Note: Reels 1&2 are rated at C/D, Reels 3&4 are rated at B.