CINE CAMERA ACCESSORIES
To purchase any of the items on this page, Express CheckOut can be used where available or simply email on the link below and your be sent a Electronic Invoice to your email address for fast easy secure payment. We aim to dispatch within 24hrs of payment received.
[ Click Here To Email Your Order To Us ]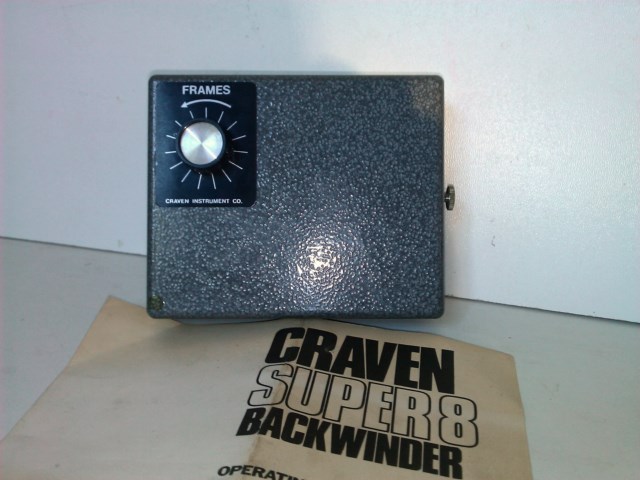 CRAVEN INSTRUMENT COMPANY OF GREAT BRITAIN SUPER 8 BACKWINDER - £49.99
This is made of solid metal and it allows the Super 8mm 50ft. cartridge to be back wound to produce various special effects such as Superimposing titles, multiple images etc. Comes with the original operating instructions. Please note: You use this device at your own risk as it is designed to make a Super 8mm cartridge do something it was never intended to do.
[ EXPRESS CHECKOUT ]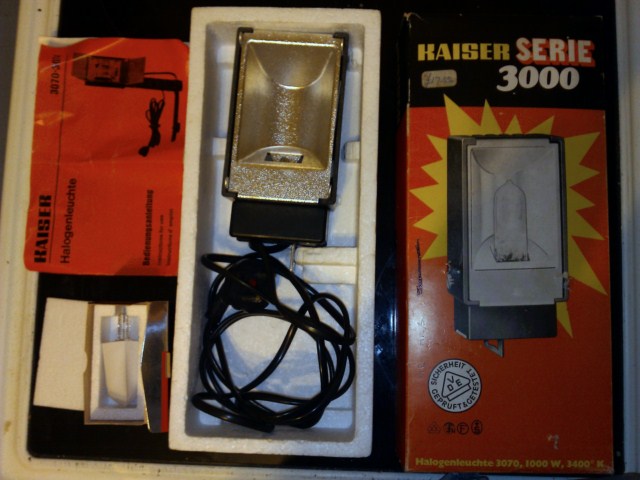 KAISER HALOGENLEUCHTE 3070 - SERIE 3000 MOVIE LIGHT
Includes: 1 x Unused Wotan Halogen-Superphot 64575 240v 1000w Halogen Lamp. Original Packaging & User Manual. A base which contains a Super 8mm Cine Camera Filter Conversion Key (Kodak Type) - £24.99
[ EXPRESS CHECKOUT ]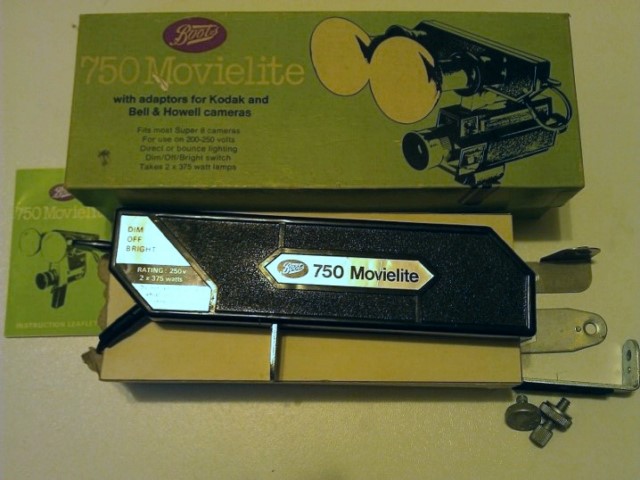 BOOTS MOVIELITE 750 - MOVIE LIGHT
For most Super 8mm Cine Cameras. Lamp: 2 x 375 W Reflector Photoflood Lamps (Not included). Direct or Bouncing Lighting: Yes. Dim/Off/Bright Switch: Yes. Power Source: 220-250 V AC. Includes: Various Adapters to mount on to the Cine Camera. Original Packaging & Instructions. - £39.99
[ EXPRESS CHECKOUT ]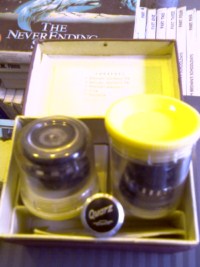 ATTACHMENTS FOR THE QUARZ AND QUARZ-M CINE CAMERAS
TELESCOPIC ATTACHMENT 0.5x, TELESCOPIC ATTACHMENT 1.9x, VIEWFINDER ATTACHMENT, SCREWS, INSTRUCTIONS. IN A PRESENTATION BOX. - £29.99
.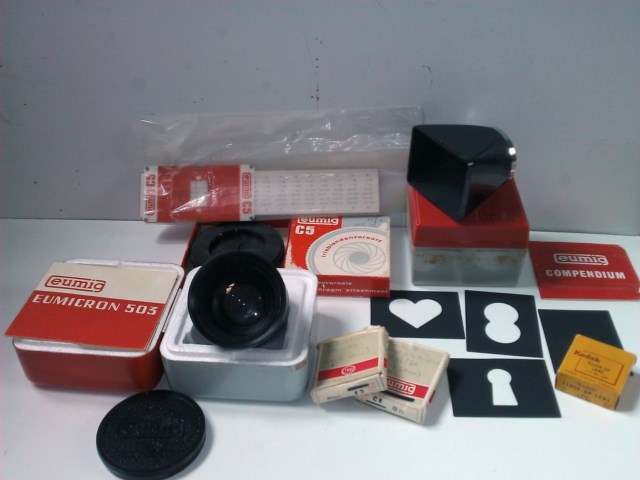 EUMIG C5 ACCESSORY PACK
For the Eumig C5 Cine Camera. Includes: Eumig Eumicron 503 0.65x Long-Range View-Finder Lens. Eumig Compendium C5 Matte Box (Lens Hood, 2 x Metal Frames, 4 x Mattes). Eumig C5 Distance/DoF Ruler. Kodak Close-Up Lens (Size No. 320 / 1 ¼", 32mm). Eumig C5 Iris-Diaphragm Attachment. Eumig C5 KR12 Correction Filter (Daylight Filter for Artificial Light Colour Film). Eumig C5 Grau. Filter (ND GR/4x Filter). - £99.99
[ EXPRESS CHECKOUT ]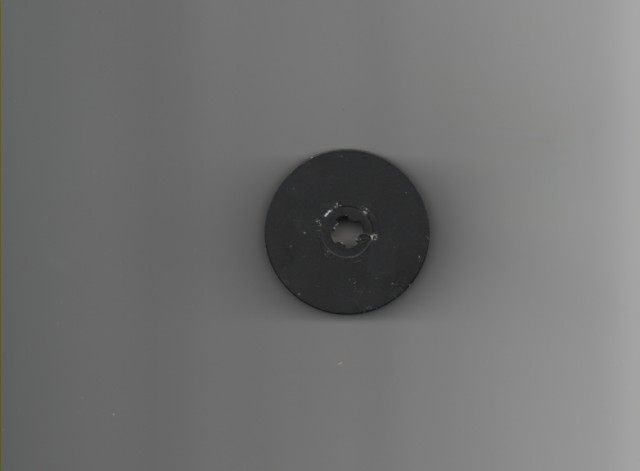 STANDARD 8MM (DOUBLE 8) CINE CAMERA 25FT REEL
FOR DOUBLE RUN CINE CAMERA - £9.99
[ EXPRESS CHECKOUT ]
.
KAISER FOTOTECHNIK CINE ELECTRIC REMOTE SHUTTER RELEASE - £29.99
COMES WITH 10M (33FT.) OF CABLE
[ EXPRESS CHECKOUT ]
.
BAUER CINE CAMERA MICROPHONE & BRACKET
SPECIAL MICROPHONE FOR THE BAUER CINE CAMERA - £19.99
.
MICROPHONE
MICROPHONE WITH AN INCREDIBLE 6 METRES OF CABLE. TWIN JACK PLUG - £19.99
.
MICROPHONE
SILVER/BLACK COLOUR MICROPHONE WITH A 3 PIN ROUND PLUG (1940Z000B) - £19.99
.
ELMO ELECTRET CONDENSER MIC
ELMO MICROPHONE (EC-101) WITH BLUE MUFFLER. TWIN JACK PLUG - £19.99
.
SANKYO TELESCOPIC CONDENSER MIC
SILVER/BLACK COLOUR. REQUIRES 1x EPX625 BATTERY CELL - £29.99
.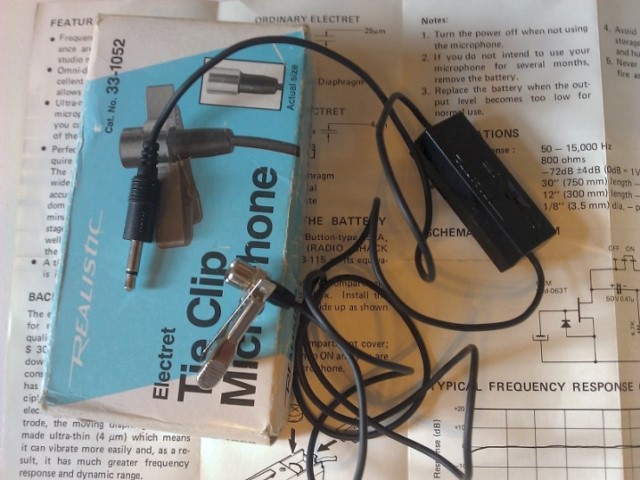 ELECTRET TIE CLIP MICROPHONE - £19.99
Broadcast Quality, Omnidirectional Pickup Pattern, Low Impedance. Includes: Original Instructions & Box. Requires 1 x LR44.
[ EXPRESS CHECKOUT ]
.
CANON RUBBER MAT FOR ATTACHING LIGHTING UNIT / SOCKET COVER C-8
*INTERPOSED RUBBER MAT BETWEEN CAMERA BODY AND LIGHTING UNIT TO SECURE ATTACHMENT.
*PUT C-8 SOCKET COVER INTO REMOTE CONTROL SOCKET AND FLASH SYNCHRONIZING SOCKET TO KEEP OFF THE DUST - £19.99
.
CANON TRIGGER GRIP
CANON C-8 TRIGGER GRIP 3 - £2.99
.

58mm ND2, ND4, ND8 FILTERS + FREE LENS COVER
Ideal companion for when shooting Ektachrome 100D, Wittnerchrome 200D etc. in bright light - £29.99
[ EXPRESS CHECKOUT ]
.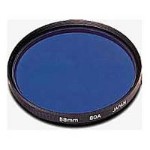 58MM 80A BLUE FILTER
For use when shooting Ektachrome 100D under Tungsten light - £22.99
.
GRUNDIG GDM 313 MIC
3 PIN SOCKET - £19.99
.
PHILIPS MIC WITH STAND
SILVER/BLACK COLOUR. 5 & 3 PIN SOCKETS - £19.99
.
CINE CAMERA USER MANUALS
USER MANUAL PRINTS, PLEASE EMAIL YOUR REQUIRED MANUAL - STARTING FROM £6.99